Oppdeling av strekket – sikre punkter
For å unngå tidstap på lengre strekk, er det viktig å dele opp strekket i delstrekk, med sikre underveis punkter (også kalt "attackpoints"). Denne oppdelingen av strekket kan også kalles "forenkling av strekket" – fordi man på denne måten deler opp et tilsynelatende langt og komplisert strekk opp i en rekke enkle delstrekk (se eksempelet nedenfor). Ved hvert at disse sikre punktene skal man ha kontroll før man løper videre. Dersom man bare løper videre når man ikke finner sitt sikre punkt på veien, kan man få store, ukontrollerte bommer. Det er ofte i slike tilfeller man får bommer på 4-5 minutter og mer (ta frem dine gamle kart med veivalg fra tidligere løp med mye bom og sjekk om dette ikke er tilfellet!).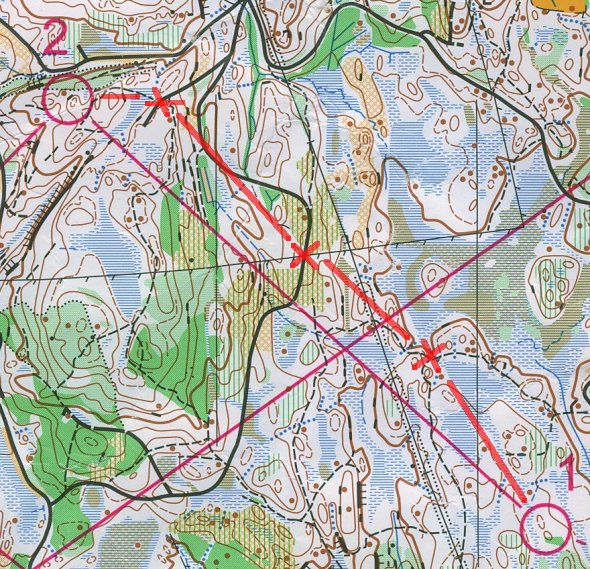 Opplegg
På o-teknisk trening med opplegget "Oppdeling av strekket – sikre punkter" skal man fokusere på oppdeling av strekket, og identifikasjon av sikre punkter:
På kartet får du en vanlig løype med middels lange og lange strekk.
Løperen deler opp strekket ved å definere fra ett til 3-4 sikre punkter underveis på strekket. Viktig: Planlegg allid oppdeling av strekket og sikre punkter før du forlater posten!
Underveis skal løperen innom alle sine sikre punkter. Det er viktig å være hard med seg selv, og ikke løpe videre før du enten har fått kontroll på ditt sikre punkt, eller funnet ut hvor du har havnet. Dersom du har havnet et annet sted enn planlagt, må du stoppe opp og lage en ny plan med nye sikre punkt!
Varianter
Foreslåtte sikre punkter kan være tegnet inn på strekkene, og merket med merkebånd i skogen. Dette kan for eksempel gjøres på de 2-3 første strekkene for å få opp bevisshet på opplegget.
Løp to og to sammen, og ta annenhver post. Førstemann forteller andremann hver gang han kommer til et av sine sikre punkt, og hvorfor han har valgt akkurat dette sikre punktet.